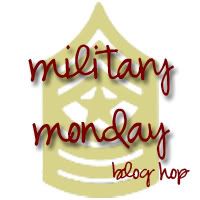 I'm just sitting here at the house hopping around the blogging world and came across this blog hop. I'm always looking for new blogs to read and follow so I figured this a great way.
Nothing new to report really in our Army way of life. Living in Missouri, enjoying the crazy weather, returning to normal after a tornado brought the new year in with a bang (literally). Shuffling three boys around in their many activities and supporting my Soldier boy the best way I can through volunteering and being the best Army wife I can be.
Thanks for stopping by!