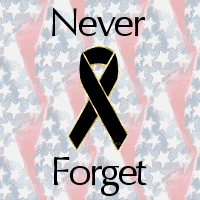 In 2008, a group of people ran for the fallen, they ran a mile for each fallen troop to date. They started at Fort Irwin, CA and ran to Arlington Cemetery in Virginia. It was neat, two of our fallen Soldiers were honored in Buffalo, Missouri. Buffalo was appropriate for our two men who were part of 8-10 Cavalry, a squadron with rich history that included Buffalo Soldiers.
This year they still had a Run for the Fallen but it was done in individual locations instead of like last year (as far as I'm aware of). The closest places to us were a 3 hour drive so I decided to just do it on my own. I had a lot of people offer to join but this morning at 0600 as we headed out, it was myself, Kevin and Keshia. Keshia's husband was in the same unit as Kevin for both deployments but more importantly, she was an awesome part of our FRG group when we were with 8-10 Cavalry. She wanted to walk/run to support our friend Nita and her husband Bryant plus the other 3 Soldiers from our Squadron. Because three of walked, we were able to dedicate more miles to more fallen and we dedicate our walk to SFC Bryant Herlem, SGT Jose Gomez, SGT Brandon Teeters, SGT Jeremy King, CPT Alex Funkhouser, CPL Michael Davis, SGT David Hart and SSG Joe Fuerst.
I don't know what the plans are on a National scale next year but I plan on doing something again and I'm hoping to make it bigger. Hope FLW is ready for me!
God Bless Our Fallen Heroes!
Starting